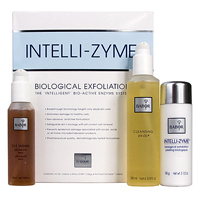 Babor
INTELLI-ZYME Biological Exfoliation Kit
SORRY - THIS PRODUCT IS NO LONGER AVAILABLE.
Great Product with results
This product provides me with the best results for smoothing and brightening my skin. It's the closest thing for me to getting a facial... As a guy I tend to not like to be too fussy with my skin but I won't do without this and some other Babor products. I've used this for years and even doing this once a week it lasts forever!