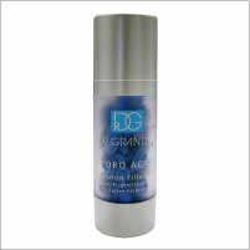 Skin Concerns this product may address:

For more Information

Find Similar Products:

Can Be Applied To:

Face
Dr Grandel

Hydro Active Hyaluron Filler Capsules, 28 Capsules
Dr. Grandel Hydra Active Hyaluron Filler Caps are moisturizing capsules.
Earn
49 Reward Points
(
?
)
Intensive care capsules with pure hyaluronic acid that immediately and visibly smooth the skin and at the same time very quickly and effectively provide the skin with deep hydration. Even pronounced wrinkles of dry skin are plumped from within and visibly reduced. The skin regains its fresh and firm look in only a few minutes.
Filler Hyaluronic Acid is the active ingredient of Dr. Grandel Hydra Active Hyaluron Filler Caps - the structure of Hyaluronic Acid is made of long-chained molecules. If these molecules are completely deprived from moisture, the structure shrinks to very, very small particles.
Thanks to this process, the dehydrated Hyaluronic Acid can penetrate very deep into the skin, where it absorbs and stores moisture, the skin's own moisture plays a key role in this process, and this way moisture is not lost but binds to the skin, thanks to Filler Hyaluronic Acid.
When the Filler Hyaluronic Acid absorbs moisture, the molecules return to their maximaum size, exert pressure on the surrounding tissue, and one wrinkle after another is plumped from within.
with an instantly visible smoothing effect

quickly provides the skin with moisture where it is needed

plumps up even pronounced wrinkles of dry skin from within

gives the skin a fresh and firm look in only a few minutes
Twist off capsule extension or cut off with scissors. Gently press the capsule, empty its content into the palm of the hand and gently massage into cleansed skin of face, neck and decollete. For best results, apply product repeatedly along lines and small wrinkles and massage well into the skin. Conclude with a Dr. Grandel cream to suit the skin type.
Often purchased with:
Review

of Hydro Active Hyaluron Filler Capsules

WRITE A REVIEW